February 3, 2022
Corn Response to Nitrogen Rates
Trial Objective
The optimum nitrogen (N) rate for corn can be difficult to determine for farmers. Inadequate N can cause a noticeable reduction in yield, whereas excess N can go unused. A balanced use of nitrogen (N), according to crop demands, is necessary to reduce N loss in the environment, reduce excessive vegetative growth of corn plants that can result in increased vulnerability to lodging, and increase the return on N investment. 
The objective of this trial was to evaluate the effects of N rates on corn.
Research Site Details
Location
Gothenburg, NE 
 
 
Soil Type 
Hord silt loam 
 



Previous
Crop
Corn
 
 
Tillage
Type

Strip-tillage 




 
Planting Date
05/06/21
 
 
Harvest Date
11/15/21
 



Potential Yield
 (bu/acre)
250
 
 
Seeding Rate
(seeds/acre)
36,000



 
The trial design was a split-plot with N fertilizer as the whole plot and corn product as the subplot with four replications.
A total of six N rates and three corn products were selected for this trial. 

N Rates: 0, 60, 120, 180, 240, and 300 lb/acre.
Corn products: 113 RM, 115 RM, 113 RM-2

The nitrogen fertilizer used was 32-0-0 and it was applied using a 360 Y-DROP on 06/29/2021.
Weeds were uniformly controlled with herbicides and no other pesticides were applied. 
Test weight, moisture, and total shelled weight were collected to calculate yield. 
The grain yield was corrected to a standard of 15% moisture content.
Understanding the Results

Plant lodging was high at higher N rates as observed in Figure 1.

For corn, plant lodging increased as the N rate increased, especially at and above 120 lb/acre, except for the corn product 115 RM (Figure 2).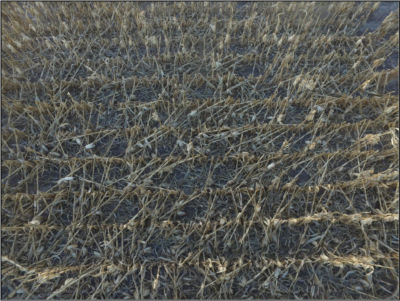 Figure 1. Plant lodging of corn at higher N rates. Pictures were taken on 11/15/2021 at the Water Utilization Learning Center in Gothenburg, Nebraska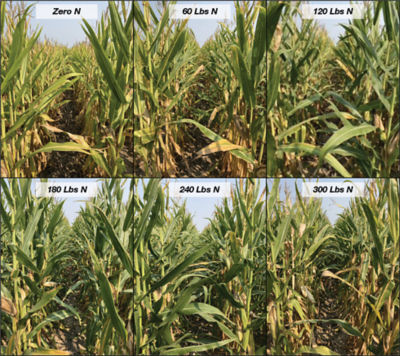 Figure 2. Nitrogen fertilization treatments in corn. Pictures were taken on 09/10/2021 at the Water Utilization Learning Center near Gothenburg, Nebraska.
Lodging percentages did differ with different corn products (Table 1).
The greatest corn grain yield increase was observed in response to an incremental increase of N from 0 to 60 lb/acre and was observed across all corn products in this study (Table 2). 
There were no positive statistical differences in corn grain yield when N rates applied were above 120 lb/acre in this trial. Instead, two of the corn products had reduced yields because of excess lodging.

Table 1. Average lodging of corn products according to nitrogen rates. *LSD (least significant difference) calculated as part of a larger trial containing 6 corn products
Table 2. Average grain yield of corn products according to nitrogen rates. *LSD (least significant difference) calculated as part of a larger trial containing 6 corn products
Key Learnings
Higher nitrogen rates lead to excessive lodging which reduced harvestable yield.  This can be especially true in fields that are corn-on-corn where there are other factors degrading the integrity of the stalk such as disease.
Carefully matching nitrogen rate with corn product, yield potential and residual soil nitrogen is key to maximize potential benefit of N fertilizer while minimizing potential drawbacks.
1011_R10_21
Thank you! Your feedback has been submitted.